Our Practice
Our Tri-City Dental Practice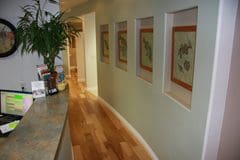 Welcome to the office of Dr.Steven Streelman, located in the beautiful Tri-City area of Oceanside, CA. It serves patients from Oceanside, Carlsbad, Vista, and surrounding areas. When you enter our practice, our friendly staff and relaxing office atmosphere will immediately put you at ease. To make you more comfortable during treatment, we offer warm blankets, special chair pads, and sedation dentistry upon request. We invite you to visit our office to experience our committed approach to your dental care.
Latest Technology, Sedation Dentistry and Digital X-Rays
Our practice features the latest in dental technology and advanced techniques, including digital x-rays and imaging as well as sedation dentistry. We are also one of very few completely "paperless" dental offices, enhancing the total care we provide. A clean, crisp design creates a spa-like environment for our patients to enjoy.
Emergency Dentistry, Restorative and Cosmetic Dentistry
Dr.Streelman's family dentistry practice is also fully equipped to perform emergency dentistry, repair cracked or broken teeth, as well as offering all aspects of Cosmetic Dentistry and Restorative Dentistry.
"It is of utmost importance to me that my patients feel comfortable in my office. My staff is second to none and really take special care of each patient. Our dedication to dental treatment fosters a relaxed environment that allows everyone to be at ease. We love to see you smile!"